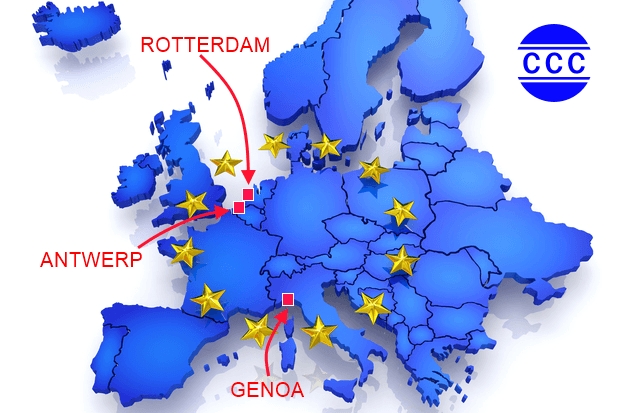 We source most commodity chemicals from China because of cost advantage. However Europe still has some  Chemical products that are Internationally competitive including many speciality Chemical raw materials. The following Chemicals we buy from mainland Europe for shipment to Africa, the Middle East and South America:
EDTA 4Na – Dissolvine NA from Akzo, NL
Perchloroethlene – Perstabil from Inovyn in France
Methylene Chloride occasionally from Inovyn France (usually China)
Solvents from the NL drumers
Sodium Hypochlorite from NL
Tamol NOP from BASF Germany
Benzalkonium Chloride – Empigen BAC 50 & BAC 80 from Innospec Italy
Calcium Dodecyl Benzene Sulphonate – Nansa EVM70B from Innospec Italy
Sodium Dodecyl  Benzene Sulphonate – Nansa HS85S from Innospec Italy
Shipment is usually from Rotterdam, Antwerp or Genoa (see
map)
We used to buy a lot of Sodium Metabisulphite from Esseco Italy and hopefully we will re-start soon
T
o see our full range of regularly supplied chemical raw materials, including those sourced from the European Union, please click the 'Products' button below and scan through our products or search for a particular product.
C
ayley Chemicals
can supply a very broad range of
products
at very competitive prices to virtually anywhere in the world.  Get in touch with us now with your name, email address, product name, specification, quantity, destination and any special requirements and we will get back to you very quickly.