Export Documentation: Part 1 – Invoice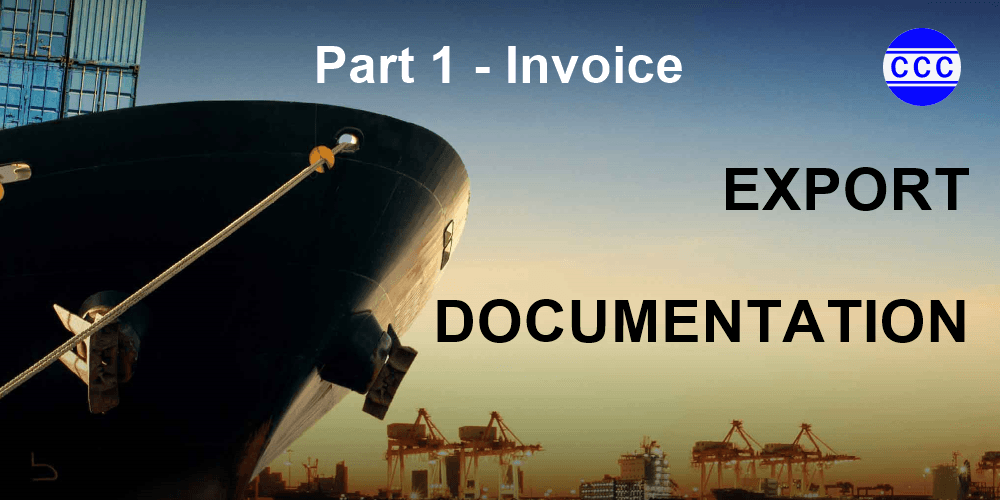 Export documentation is critical.  It needs to very accurate and comprehensive and to meet the full requirements of the importing country. For the next few months we will examine various documents starting today with an Export Invoice
Export Invoice
An export invoice is different to a normal accounting invoice. Whereas an accounting invoice is primarily a method of a seller to get paid by a customer, an export invoice contains a lot more fields of information relating to, for example, the product(s), the terms, method of shipping, export/import licenses, container numbers etc. Failure to complete an export invoice correctly and accurately could result in your goods being held up in customs due to insufficient or incorrect information.
Having agreed a sale with a customer the first document to issue is a Proforma Invoice (PFI). A PFI is needed for several reasons……….
It is a one page substitution of lengthy sales contracts
It states all the terms of the sale.
It is used by the customer in many countries to apply for an Import Licence
Can be used by a customer to support an LC (Letter of Credit) application if appropriate
A PFI example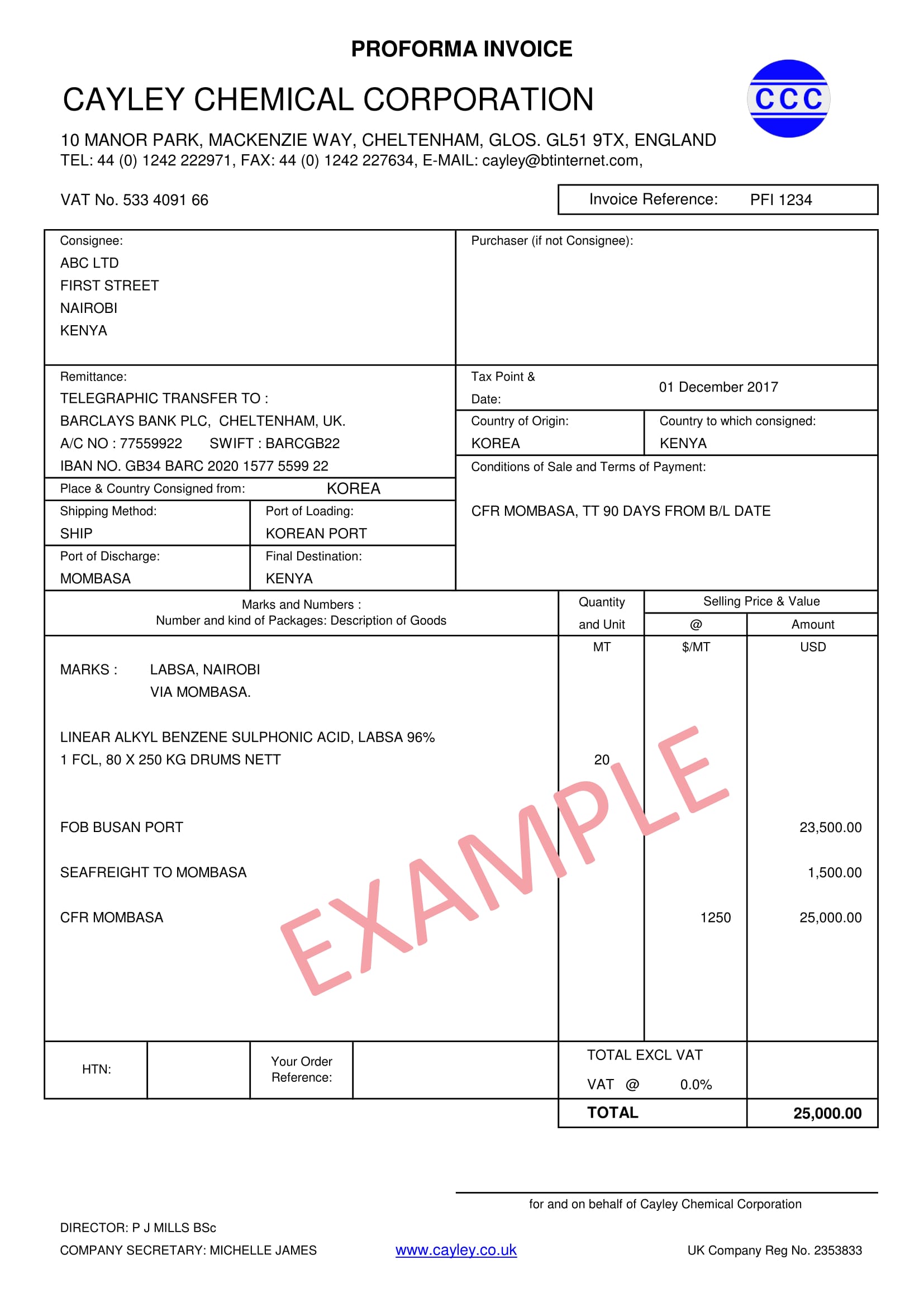 The full name and address of both Consignee and Purchaser (if different from the Consignee) must be accurate. The Consignee is the entity to which the goods are being shipped and the Purchaser is the entity who makes payment for those goods. Usually they are the same and when they are there is no need to enter any Purchaser details. However, there are situations where the two differ. For example, some companies have a separate HQ that administers the payment e.g. PZ Nigeria, so in this example the consignee would be PZ Nigeria and the purchaser would be their UK HQ.
Product description must include the International product name as well as the Brand name, the packing details and quantity. On the Invoice all weights are on a 'net' basis i.e. chargeable.
Payment terms must be accurate e.g. 90 days is no good but 90 days from BL (Bill of Lading) date or Invoice date is OK.
IncotermsTM, developed by the International Chamber of Commerce (ICC), have been accepted by traders and governments worldwide to explain important terms such as insurance, carriage or risk of loss and must be clear e.g. CFR (Cost & Freight) or CIF (Cost, Insurance, Freight) or FOB (Free On Board) or whatever is agreed with the customer. At Cayley, we normally sell on a CFR basis. It is important to use the correct IncotermsTM terminology and to ensure your customer understands his responsibility in respect of both cost (who pays for what element of the transaction) and risk. These are usually, but not necessarily, the same so clarity is important. A full explanation of each of the 11 IncotermsTM is available here as a PDF download.
Contract currency must be clear e.g. USD, EUR or GBP etc.
Supplier bank details must show: Account name, Account number, Swift/BIC and also the IBAN Number.
For most deep sea markets it is necessary to show the FOB, Seafreight and CFR/CIF totals and the contract price in the 'per' column. Note: different countries apply tax on different values – some FOB other CFR/CIF – hence the need to show both.
Marks are the marks as shown on the BL (Bill of Lading). The marks on the product labels will be far more comprehensive but do not need to be shown on the Invoice.
Finally print, stamp, sign, scan and email the PFI to the customer and request the customer to email back their PO (Purchase Order) and request they apply for an Import Licence if one is required.
Final Invoice example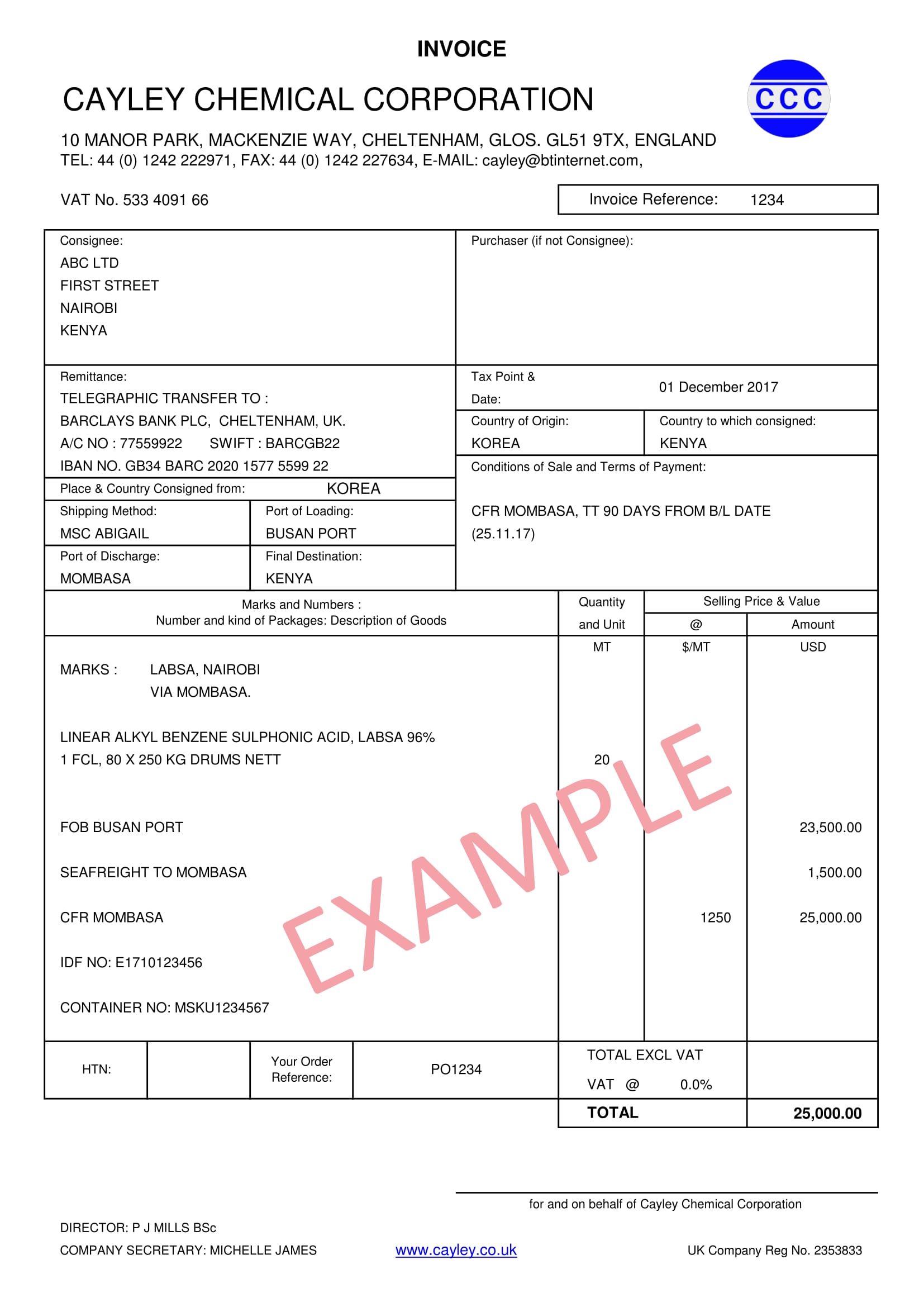 Now all information on the final Invoice must match the Bill of Lading exactly:
'Shipping Method' (vessel name)
'Port of Loading'.
Sailing date must show in the payment terms box because that may determine the due date.
The customer's order number or PO (Purchase Order) must show.
The container number must be shown (if containerized)
Any special requirements of the importing country – in the example shown (Kenya), the Import Licence number or  IDF number (Import Declaration Form number) must be shown.
Finally print, stamp, sign and scan the Invoice. Send it to the customer together with all the other docs by email and then clip all the docs together (including at least 4 signed original invoices) and courier them to the customer if the terms are open account or to the customer's bank if DA (Documents against Acceptance) terms have been agreed.
That is a brief outline of the PFI and final invoice requirements. If you need your details/logo etc to be applied to a PFI and Invoice in MS Excel, contact us via our contact form and I'll forward your message to our Excel & website expert .
Next month we will provide further guidance on another aspect of export documentation.
++++++++++++++++++++++++++
To see our full range of regularly supplied chemical raw materials, please click the 'Products' button below and scan through our products or search for a particular product.
Cayley Chemicals can supply a very broad range of products at very competitive prices to virtually anywhere in the world.  Get in touch with us now with your name, email address, product name, specification, quantity, destination and any special requirements and we will get back to you very quickly.
Footnote:
"Incoterms" is a trademark of the International Chamber of Commerce (ICC).
The full text of the 2010 edition of the Incoterms rules is available at http://store.iccwbo.org/.
Back to incoterms in main text ↑